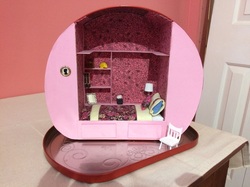 So I finally made a miniature room based on the one I shared with you 3 years ago (
here
).
I can't believe it's been so long, I know I promised you guys a tutorial "soon" back then; its been in the back of my mind and I've finally finished. Tell me your feedback in the comments (or shoot me an email at
erin@allthingsmini.sueztech.com
).
It's going to be a long and somewhat complicated tutorial; I finished the structure in 2 or 3 days, most of accessories I had on hand, but I waited two weeks to pick out matching scraps for the bed. So all in all if I hadn't procrastinated it might've only taken me a week or less.
(edit: I got this tutorial ready a month ago but was missing a few pictures and got lazy. Sorry. :)