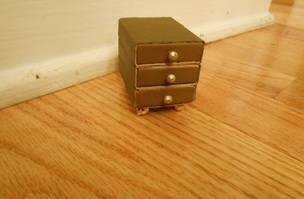 This mini nightstand is simply made of some empty matchboxes, paint, and other household materials. And it's drawers will actually open!
Materials:
Scissors
Glue
Empty Matchboxes
Paint
Small sized and medium sized beads
Optional: Tape and Colored Paper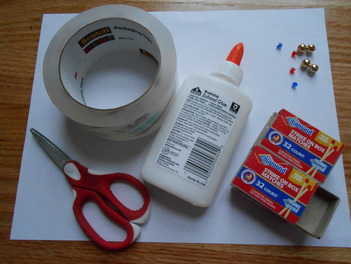 Instructions:

Step 1: Glue together 3 empty matchboxes.

Step 1.5: If you want, add tape around the 3 matchboxes to keep them close together. Then put it on top of a heat vent to dry quickly.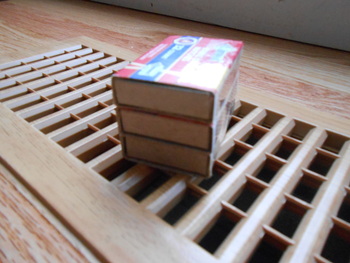 Step 2: Pull out the drawers and put the first coat of paint onto the matchboxes. I picked a mix of caramel brown and graphite. Make sure to paint the sides and front of the drawers. If you have it, you can use a ink pad instead.

Step 3: After it dries, paint another coat. Do this until the matchboxes' color underneath is not visible.

Step 4: Now, add a small dot of glue to the front of a drawer.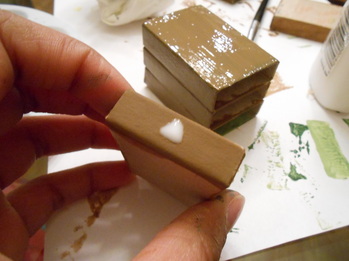 Step 5: Drop the small bead onto the glue. This will become the knob. Do for all drawers.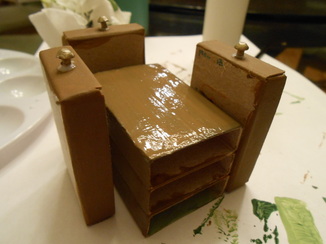 Step 6: Turn your nightstand/dresser over and add 4 drops of glue to the 4 corners. Try to make it as spaced equally as possible.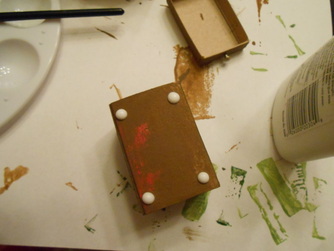 Step 7: Add your medium sized beads. These will become the feet.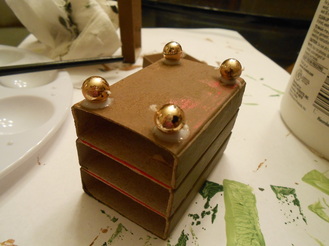 Step 8: Improvise! Maybe you want to add a clear coat to protect the paint and give it some shine. Or maybe you want a patterned dresser, not a solid color. It's all up to you!


Enjoy!
Please leave your tips, comments, and questions in the comment box below. Thank you!