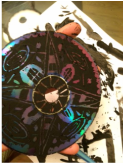 I recently saw something on Pinterest that caught my eye. CD scratch art (link at the bottom). I actually didn't look at the tutorial, and had wanted to look at the picture to copy my design, but none of that happened. So I ended up making a few mistakes, but now I know.
Materials:
Old CD
Dark colored acrylic paint
Sharp pointed tool (I used a tool that came with a previous scratch art kit that I had done. But anything works.)

Instructions:


Step 1: Coat the CD with black acrylic paint. Make sure you are painting on the side that casts rainbows when you look at it from different angles. As I said, I didn't read the tutorial, so I used tempera paint (which I had a lot of), and that didn't work out too well. But we learn from our mistakes :)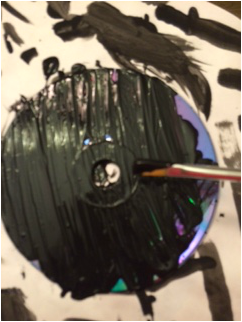 Step 2: After letting it dry, carefully trace out your design on the cd, making sure not to peel the paint away. The picture shown here shows my original design, but I decided to do something simpler in the end.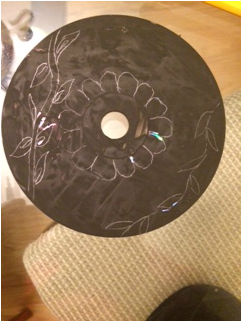 Step 3: Carefully scratch away the paint to create your design. Easy as 1, 2, 3! :)