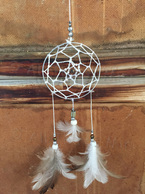 Thanksgiving Break is here! This dream catcher is a simple, but beautiful, craft that is perfect for all ages.
Materials:
Twine/yarn - Using yarn is not advisable, as the fuzz (?) surrounding the thread makes it look sloppy.
I used crochet thread, so after I finished the project I ended up using Elmer's glue to make all the fuzz lie flat.
Beads - I pulled out various beads from my bead collection. These included sugar beads and round beads (which come from my mom's dresses :), pony beads, and a chevron bead. (It should be noted that I've never bought beads, I collect them various places, if you keep your eyes peeled you can find lots of places to get beads like old/ripped dresses, etc.)
Feathers - As I've never told you, I have ten ducks which I received as ducklings 3 months ago. They went through a phase where they shed a lot of feathers (around 8 weeks) so I collected a lot of feathers (with the intention of using them now). I suppose if you don't have ducks (or chickens) you'll have to go but some from a craft store (like Jo-Ann or Michaels, in the US).
Scissors
Wire or Old Bangle - I used the same wire I used for my
watch strap
, and wrapped it around a round glass to get a perfect round shape.
Instructions:
I used a tutorial I found at
This Fashion Is Mine
. She uses a kit, but the instructions are great. I didn't take any pictures while making the dream catcher, so sorry guys! Hope my tips help you out. Below are pictures of my finished pictures. (And cute duckling pictures (my own ducks))
-Erin A